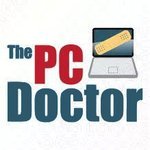 Every 2nd and 3rd Thursday of the month, we get the pleasure to talk to the Doctor, the PC Doctor, Ralph McDonald of McDonald's Computer Service. We talk to Ralph about all kinds that deal with your computer! And if you miss it live on Thursday at 9:15, you can listen to all the episodes right here!
Visit the PC Doctor's website to get additional information and like them on FaceBook for a chance to win a tablet!
For older episodes Click Here
---
This time on the PC Doctor, Shane Farley guest hosts the show while Ralph starts off with his phone options through Boost, following with his used PC options including a Macbook, and some information and knowledge on surge protectors and protecting your equipment. Shane even apologizes to his mom On-Air after Ralph corrects Shane and agrees with Mama Farley.
---
Ralph encourages some ticket giveaways and then dives right into it with Boost phones, scam calls going around and antivirus options to protect yourself, Windows 10 updates scams, and how to fix or prevent all of these problems.
---
This episode starts with Earl Pitts being sponsored by Ralph and giving away an Earl Pitts hat. Then Ralph dives into Windows 10 options for gamers, Office program options, and phone options and specials this tax season.
---
Ralph talks his child radio experience and his Boost options. The PC doctors can also fix your phone. Bring your pc in to clean it up since the kids have had it all break and if they can't they can get you into a new PC and how to protect your PC with antivirus options. And Ralph's way of ditching the cable TV bill.
---
2-in-1 laptops is the starting point of this episode, then Ralph goes on to talk about his special inventory, and Christmas Traditions. External equipment and storage are suggested gifts selection for Christmas.
---
Gilligan's Island is used as an aging technique by the hosts, Marty and Ralph, before illuminating Ralph's leasing options, and hints to keep your online shopping safe and secure.
---
Marty starts the episode off with his lovely voice, before Ralph reigns his show back to talk about business technology and efficiency it can bring as well as how he can better it. Ralph gives some information about Windows updates and when and why you should or shouldn't update. He does caveat that regardless of what happens he can fix it for you.
---
Today, they start off the show with Verizon details and timeline until Ralph is a Verizon dealer, options to get more out of your computer and their commitment to helping you, and Ralph talks his security camera options including a story involving a raccoon. Ralph is also in the process of getting a new service for lease-to-own.
---
This show is off-the-cuff. No script. The first topic brought up is the scams going around and what clues to look for to avoid them, as well, they discuss what these scammers can do to your computer.
---
This morning Marty starts off with finding a geocache item before Ralph starts in with the details on his Boost sale going on and Verizon options, before going back to high school reminiscing, McDonald's back to school specials: tune-ups and other methods to speed up your pc, before cling with printer options and how to evaluate them.
---
Ralph is early this morning while Marty starts drooling, then Ralph gets into his mobile solutions for kids and teens who are going back to school, Windows 10 issues and news, and new and used computers from the PC Doctors.
---
This week, Ralph and Marty get distracted by T-Rex physiology before going into the PC Doctor's mobile solutions differences and options, back to school options like new tech and tune-ups of existing tech, brand name leverage or the lack thereof, and Ralph also explains how a computer works.
---
On this week's Episode, we discuss why we get our computers cleaned, temperatures that affect your PC even increasing power, and Verizon is moving in with the PC Doctor's!
---
This episode is all internet security. There have been a number of incidents lately and this topic cannot be stressed enough so tune-in and make yourself safer on the web with Ralph the PC Doctor.
---
The PC Doctor begins this episode by welcoming you to come and check in on your computer, it's all part of the experience they offer, the differences between a desktop and a laptop, Creator's updates and Cortana for windows 10 and Gamebox update, Nightlight mode And all the myriad of updates coming to windows and some advice about power strips and surge protectors with the upcoming weather. Recorded 4-13
---
This episode starts with some golf talk before getting into Boost deals, Windows Live mail app going away, and a recent Windows antivirus vulnerability. Recorded 3-23
---
Marty and Ralph start off with beef types and cook preferences then get on to business with Boost deals, what takes the most data and more safety tips for surfing the web. Recorded 3-9
---
Ralph reiterates the ongoing scamming going around, safe search techniques, and some explanations about what happens to your computer when it gets fixed. They also talk Ralph's used equipment stock and what he does to check their condition and Boost mobile's flexibility without contracts and the current deals on plans and phones. Recorded 2-16
---
Ralph and Marty talk potential changes to Net Neutrality, Boost free phone deals, Windows 10 reload options, and then he hijacked Shane's facebook account. Don't leave your facebook page open. Ever. Record 2-9
---
Marty and Ralph talk his difficulties with his broken leg, Boost Promotions and the plans available, how internet speeds work and Net Neutrality, internet bandwidth limitations coming into effect. Recorded 1-26
---
Ralph makes it into the studio for the first time in a while due to his broken leg, but Marty and Ralph talk about the large uptick in scams going around and how to avoid them, Google search tips, and Boost promotions coming to an end before the new ones come out! Recorded 1-19
---
Ralph and Marty talk his broken leg, new phones, his inventory for Christmas Gifts, stocking stuffers included, even if he's out, he can order it! Recorded 12-22
---
Ralph and Marty talk Christmas songs, Boost returns to Free Phones, Phone protection options, small businesses and home office solutions: From empty room to fully furnished office, comparing your computer to your house, and used machines and the checks they go through before you see them! Recorded 12-15
---